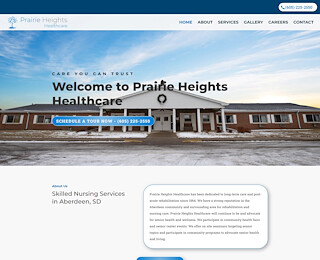 Prairie Heights Healthcare is a renowned rehabilitation hospital in Aberdeen, SD. We would like to thank you for considering us for your ongoing healthcare needs personally. If your doctor has recommended a transitional care facility to aid in your recovery, then you are in good hands with Prairie Heights Healthcare. The purpose of Prairie Heights Healthcare is to allow patients like you to receive continued healthcare but in a more comfortable setting. By choosing Prairie Heights Healthcare, the transition period will be much smoother, and you will experience an elevated level of service that is customary of luxury resort facilities.
By receiving top-quality care from qualified, licensed practitioners, you will experience the best recovery possible. When you combine your commitment to healing with our expertise and technology, the focused dedication will result in you and your caregivers achieving success. Rather than thinking of Prairie Heights Healthcare as a rehabilitation hospital in Aberdeen, SD, think of us as your dedicated partners in recovery.
What We Offer
While you are in our care, our team will work with all of your doctors and caregivers to collaborate and coordinate a treatment plan that fosters a speedy, full recovery for you. Prairie Heights Healthcare's nurses, doctors, therapists, and aids all work together on your behalf. Additionally, Prairie Heights Healthcare has a full suite of post-hospital services, including the following:
Rehabilitation hospital in Aberdeen, SD
Skilled nursing
Home healthcare
Hospice
Outpatient rehabilitation therapy
Inpatient rehabilitation wound therapy
Advanced wound care
Long-term assisted living
Specifically, the team at Prairie Heights Healthcare specializes in post-orthopedic care, cardio/pulmonary therapy, stroke recovery, urinary and bowel incontinence, cognitive skills training, and more.
Our Team Cares
Prairie Heights Healthcare is a rehabilitation hospital in Aberdeen, SD that offers a long list of amenities to make each resident's stay with us as comfortable, homelike, and as convenient as possible. More than anything, it is our team of highly dedicated interdisciplinary practitioners who make Prairie Height Healthcare a gem in the Aberdeen community. Not only is our staff highly skilled, but it is also full of compassionate caregivers who want to see each one of our residents make a full recovery. We take care of our residents' physical and emotional needs at any point in life or at any stage of wellness.
We Provide Customized Care
At Prairie Heights Healthcare, we tailor and customize our treatment plans according to the unique needs of the resident. No one is compelled to participate in our transitional care program, but we encourage you to weigh out all of your options carefully. Before you make a decision about healthcare, you should consider all of your options carefully.
By being informed, you and your family can make the best healthcare decisions. If you would like to speak with a manager of Prairie Heights Healthcare or schedule a tour, you may reach out online or over the phone at any time. We would be happy to accommodate you and help with the recovery process.
Rehabilitation Hospital Aberdeen Sd
Prairie Heights Healthcare
6052252550
400 8th Avenue Northwest
Aberdeen
SD
57401
View Larger Map
We welcome your comments!
Your Facility for Rehab Services in Abderdeen, SD
We Can Help You!
Considering a skilled nursing or rehabilitation facility can be a confusing process. Please reach out with any questions or concerns you may have. We're here to help.