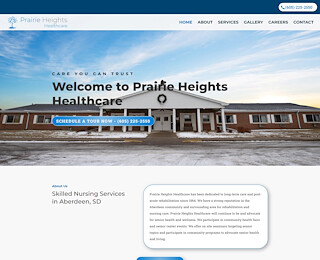 Making the choice to switch from at-home care is almost never an easy one for either the family or the loved one needing assisted care. Family members deal with feelings of sorrow, grief, guilt, and other emotions. Meanwhile, the loved one who is being moved into a nursing home often feels the exact same things, compounded by a feeling that they are a burden to their loved ones.
While there are several nursing homes in Aberdeen, SD, not all of them created equally. Prairie Heights Healthcare is a skilled nursing facility that can help make the transition softer for all parties involved in these most serious and difficult decisions.
There isn't much that we can do to make this decision any easier for you. What we can do is ensure that you are not alone in this and that everything is going to be alright for you and your loved one. Many times, we receive new residents who are afraid, saddened, and aren't taking good care of themselves at home. Within no time, the majority of our new residents will get a new lease on life, many of them putting on weight, socializing with other residents, becoming more alert, and becoming more interested in things. Although the transition takes longer for some new residents than it does for others, more than 95% of our residents come around within no more than a couple of months.
Families are often surprised and relieved to find out that their loved ones are actually happier in a nursing home. Because the best nursing homes in Aberdeen, SD provide plenty of opportunities for socializing and interacting, many of our residents feel safe, comfortable, and content. A lot of our new residents are individuals who had been living alone at home for some time, receiving a little daily assistance from a family member or care provider where needed. These individuals realize how nice it is to wake up in a place where they are not alone, engulfed by the absolute silence of an empty home.
Indeed, our residents are very content and comforted at Prairie Heights Healthcare, one of the best nursing homes in Aberdeen, SD. Our residents have nothing to worry about here. The food, the shelter, the warmth, all of the things that we often take for granted; these are provided to our residents by us. Therefore, they never have to worry about any of it. At Prairie Heights Healthcare, our residents are treated very well. All meals are prepared by a chef, and each resident has their own private room, furnishings, and amenities. Nobody may enter your loved one's private space uninvited.
At Prairie Heights Healthcare, our entire staff is very friendly and polite, and each of us will go the extra mile to ensure the comfort, safety, and well-being of our residents. We have same-gender technicians to help individuals bathe, shower, walk, and perform daily tasks. We'll perform the type of care that best suits the resident's personal needs.
Nursing Homes Aberdeen Sd
Prairie Heights Healthcare
6052252550
400 8th Avenue Northwest
Aberdeen
SD
57401
View Larger Map
We welcome your comments!
Your Facility for Rehab Services in Abderdeen, SD
We Can Help You!
Considering a skilled nursing or rehabilitation facility can be a confusing process. Please reach out with any questions or concerns you may have. We're here to help.